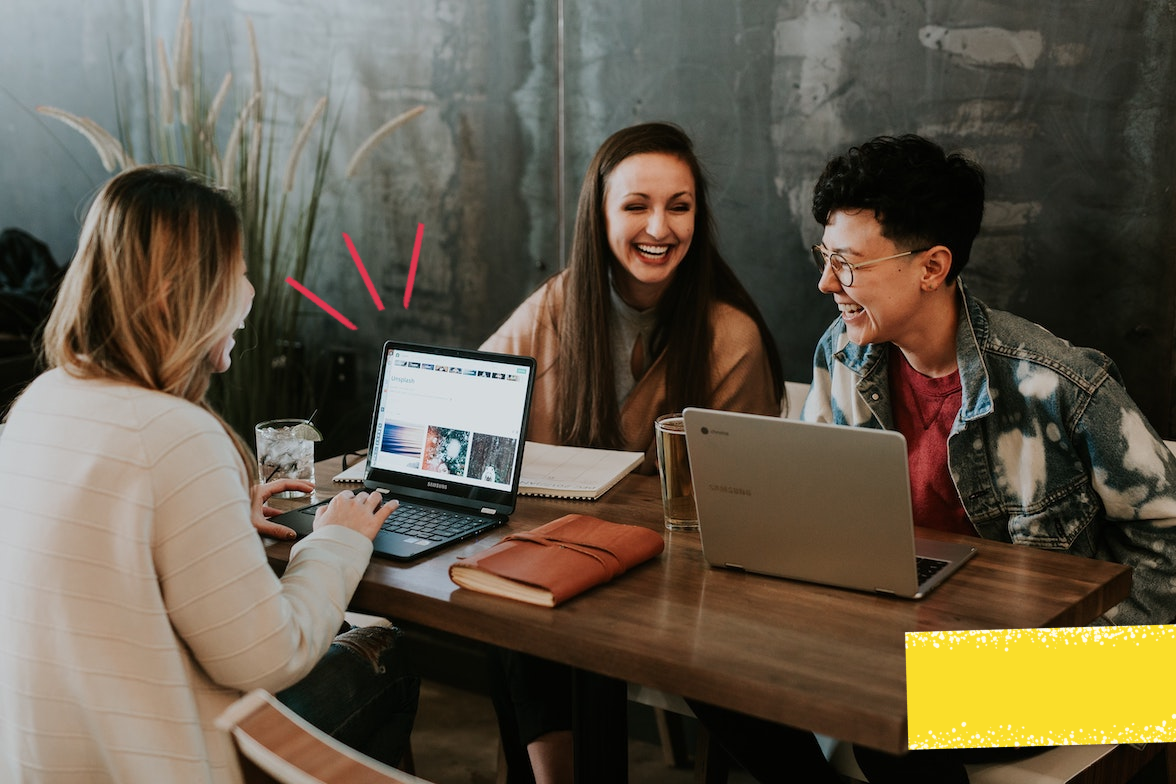 When you hear that social media can be valuable for hiring, you may think, "Of course, I've already searched LinkedIn for potential employees."
But I'm talking much wider than that. In fact, if you don't consider all your social media channels as possible groups of candidates, then you're probably missing out on some amazing employees.
Look at it this way: even if your social channels are customer-oriented, a good percentage of your audience is probably made up of working professionals. If their skills are in line with your needs, already like what your company does enough to follow you, then it could be the perfect match.
Read on to find out how both small and growing businesses can create a strategy to hire the best talent through social media.
1. Think about where your ideal candidates hang out
Smart hiring on social media doesn't mean destroying all of your social channels to your jobs until you fill them. Instead, be as targeted as you can when thinking about where you might find your ideal candidate for any given role.
Start by paying attention to the demographics and composition of certain social networks and how this matches the types of candidates you are looking for. We found more marketers in Buffer on Twitter than on LinkedIn, because they usually hang out there. If you're looking for a social media professional or content creator, Instagram or TikTok might be a better place to look.
It can also be valuable to find ways to connect with specific communities within broader social networks. For example, we found great appeal in promoting job creation on Facebook groups targeting people in certain industries (e.g. DevelopHer, Tech Inclusion, or Techqueria). On Twitter or Instagram, you can see if there are hashtags you can include or accounts you can tag to introduce yourself to the types of people you want to hire (e.g. @WritersofColor).
2. Go beyond posting a role
To get the most out of social media hiring, you want to do more than post job ads and hope for the best. Instead, use all the opportunities these platforms offer to showcase your culture, answer questions about your company, and generally hire potential candidates – all of which can help encourage them to click "Apply."
In one of the most fun tactics I've seen recently, Buffer's employment manager offered 15-minute "coffee conversations" to his Twitter network, where potentially interested candidates could learn more about the role and the company. You can use the question feature on Instagram Stories for a similar AMA-style strategy.
Thanks to a sense of conversation and a culture of authenticity, social media also provides you with a platform to showcase your company's culture. According to a study from CareerArc, Facebook is the number one site that candidates use to research the brand and reputation of the employer, even more than review pages like Glassdoor.
Be creative with content that shows what it's like to work for your company, such as behind-the-scenes videos or interviews with current employees, to continue giving candidates that match reasons to be excited about what will work for you.
East Fork Pottery, based in Asheville, NC, not only publishes a job description, but shares its values ​​with potential employees.
3. Facilitate learning and sharing
Social media has taught us that we expect a flawless and easy user experience, so candidates who come across your job opportunities on these platforms will expect the same from you. If you make it difficult for them to learn more about the job, they will probably give up quickly.
Still, I can't tell you how many companies I see sharing shares on social media and then linking to an awkward job page (or worse, not sharing a link at all).
Make it easy for people to find more details about the role, either with a link in the resume (maybe on your brand page Home page) or a link directly to the post or story. Make sure these details are easy to search on your mobile because 83% of social media searches take place on our phones.
As a bonus, creating a seamless experience makes it easier for your followers to share these roles with their network, thus expanding your reach. At Buffer, we also saw success in encouraging our hiring managers and teammates to share our open roles on their own channels.
We're hiring at Buffer and we've made it easy to sign up and share with fun posts like these.
4. Build relationships for the future
Lastly, remember that social media is, at its core, a tool for building relationships. Even your social channels don't help you immediately find the right candidate for the role, keep working on sharing information about your culture and mission, connecting with new people and keeping your mind up so you can build a network of followers who not only love your products or services , but also those who love your job.
After all, the next person to follow your company could be perfect for the next role you are hiring for – you just need to show them why.
!function(f,b,e,v,n,t,s)
{if(f.fbq)return;n=f.fbq=function(){n.callMethod?
n.callMethod.apply(n,arguments):n.queue.push(arguments)};
if(!f._fbq)f._fbq=n;n.push=n;n.loaded=!0;n.version='2.0′;
n.queue=[];t=b.createElement(e);t.async=!0;
t.src=v;s=b.getElementsByTagName(e)[0];
s.parentNode.insertBefore(t,s)}(window, document,'script',
'https://connect.facebook.net/en_US/fbevents.js');
fbq('init', '1521042244879171');
fbq('track', 'PageView');